Free US Shipping & Easy Returns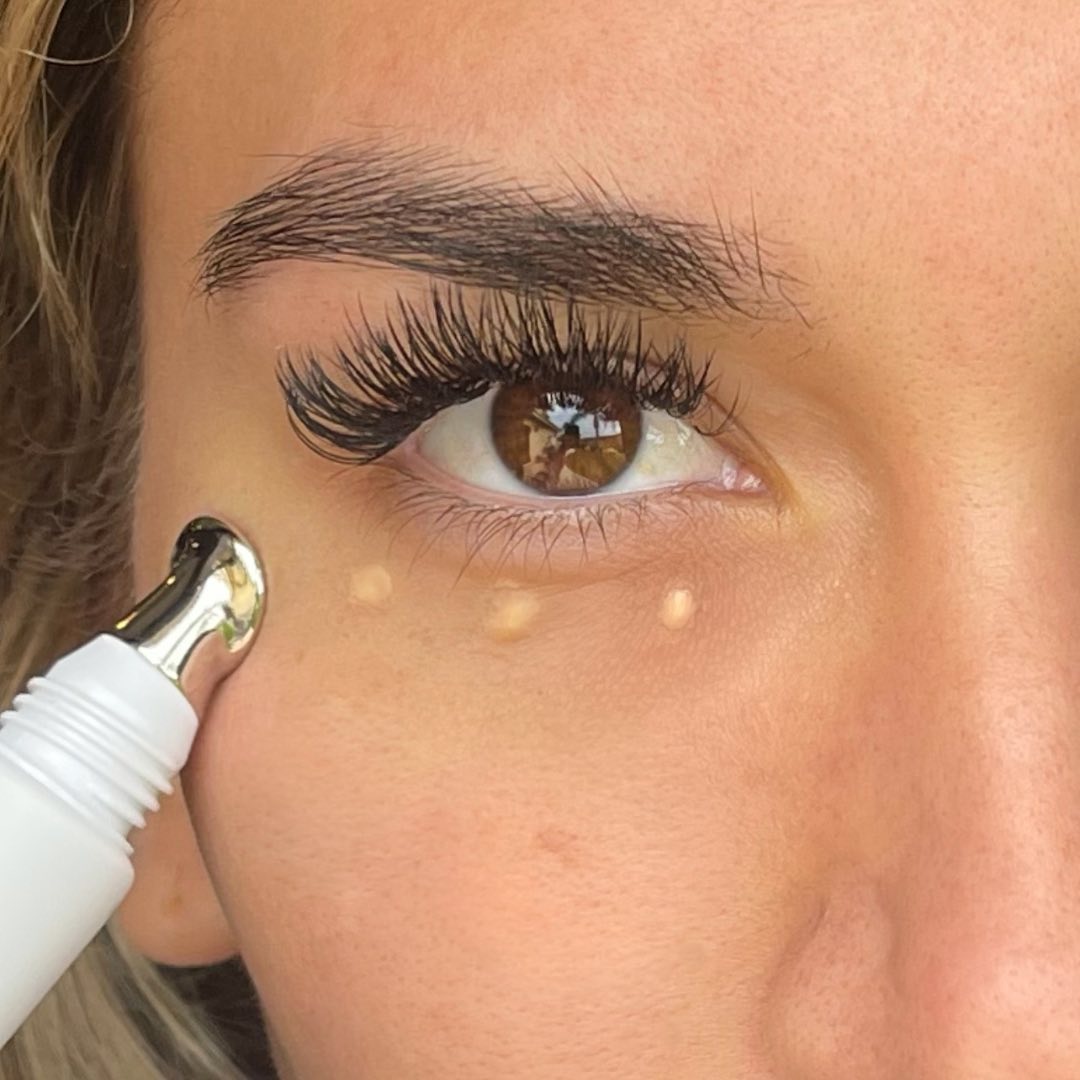 Rated 4.8/5 (Sold Out 3x)
Instantly Nourish, Brighten And Depuff Your Under-Eyes For An Awakened Look!
It's So Effective That It Had To Be Patented
No irritation, no stinging!
Decrease redness & puffiness
Brighten Dark circles
6 Reasons Why Wake Up Call Is The Under-Eye Care Solution You've Been Begging For!
Inspired By customer Feedback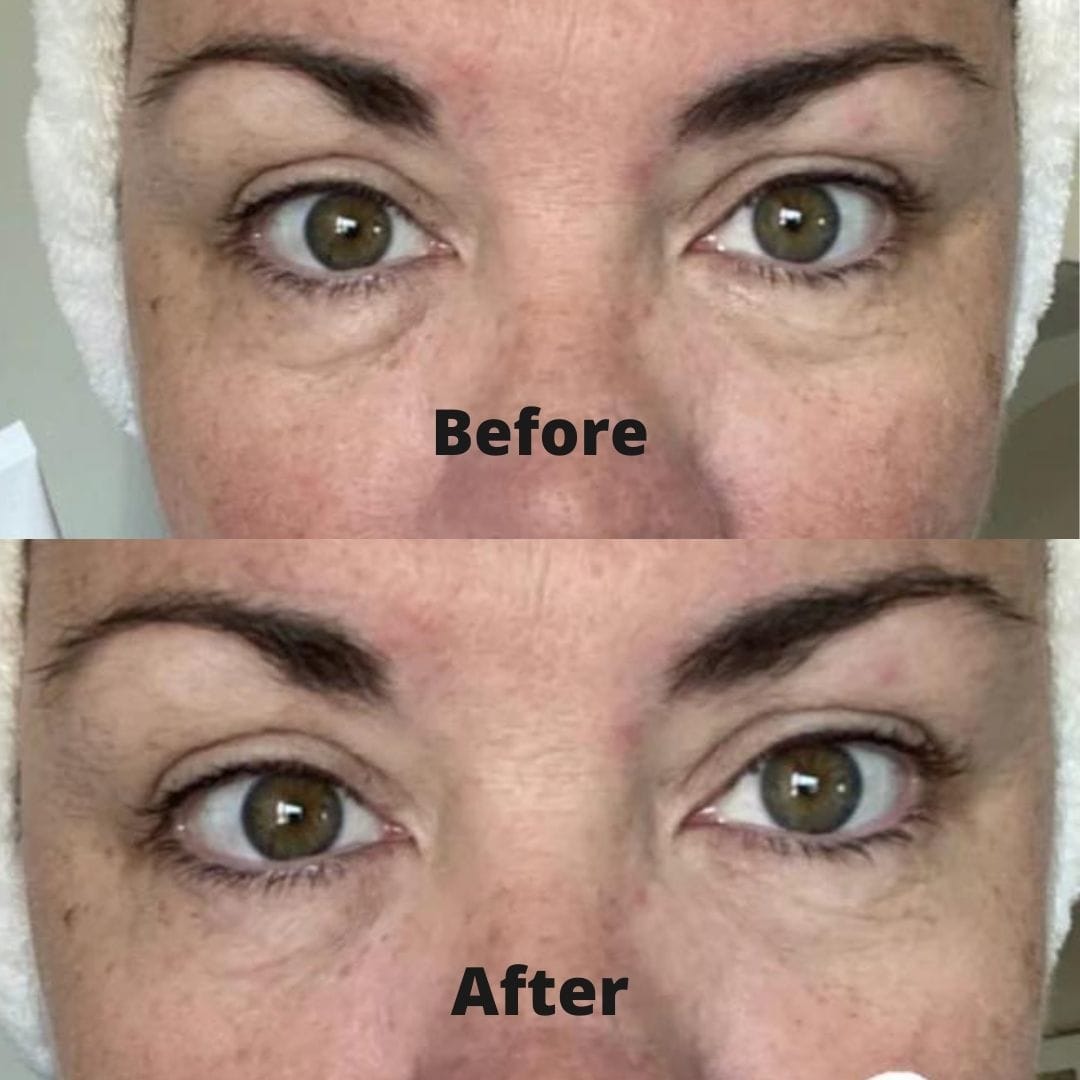 1
It's a complete skincare system for your eyes that provides noticeable results...
Never before has an eye serum provided a lot of benefits!
Talk about simplifying your skincare routine.
Formulated to brighten & hydrate your under-eyes, our advanced eye serum powered by Aloe quickly nourishes, soothes, and diminishes fine lines, puffiness, & dark circles!
Sara K. Verified Customer
"OK this baby really does work! I've been using it consistently for about two weeks now, morning and afternoon. You can see the results!"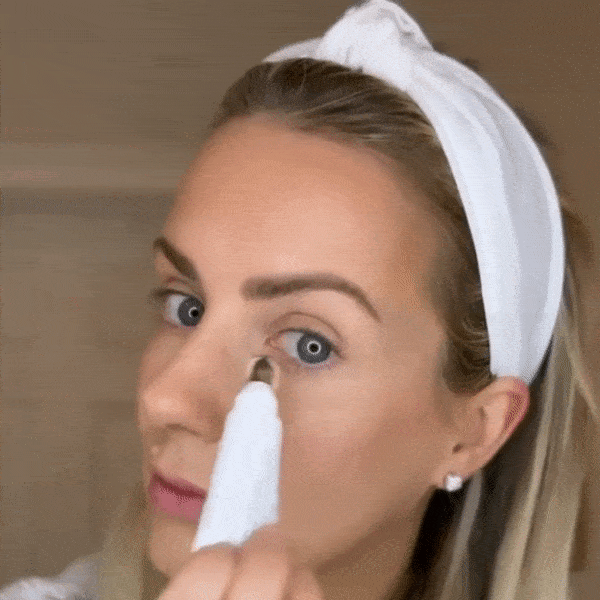 2
Finally! A patented cooling tip for easy application & betters results...
Who in the world invented the "dip your finger" method? How unsanitary! You run the risk of cross-termination
Say hello to this ice-cold, patented cooling tip.
You will notice your under-eye bags reducing when you glide it under your eyes. That's not all…
Smooth the appearance of fine lines & wrinkles

Wakes you up so you're don't look sleepy
SP. Verified Customer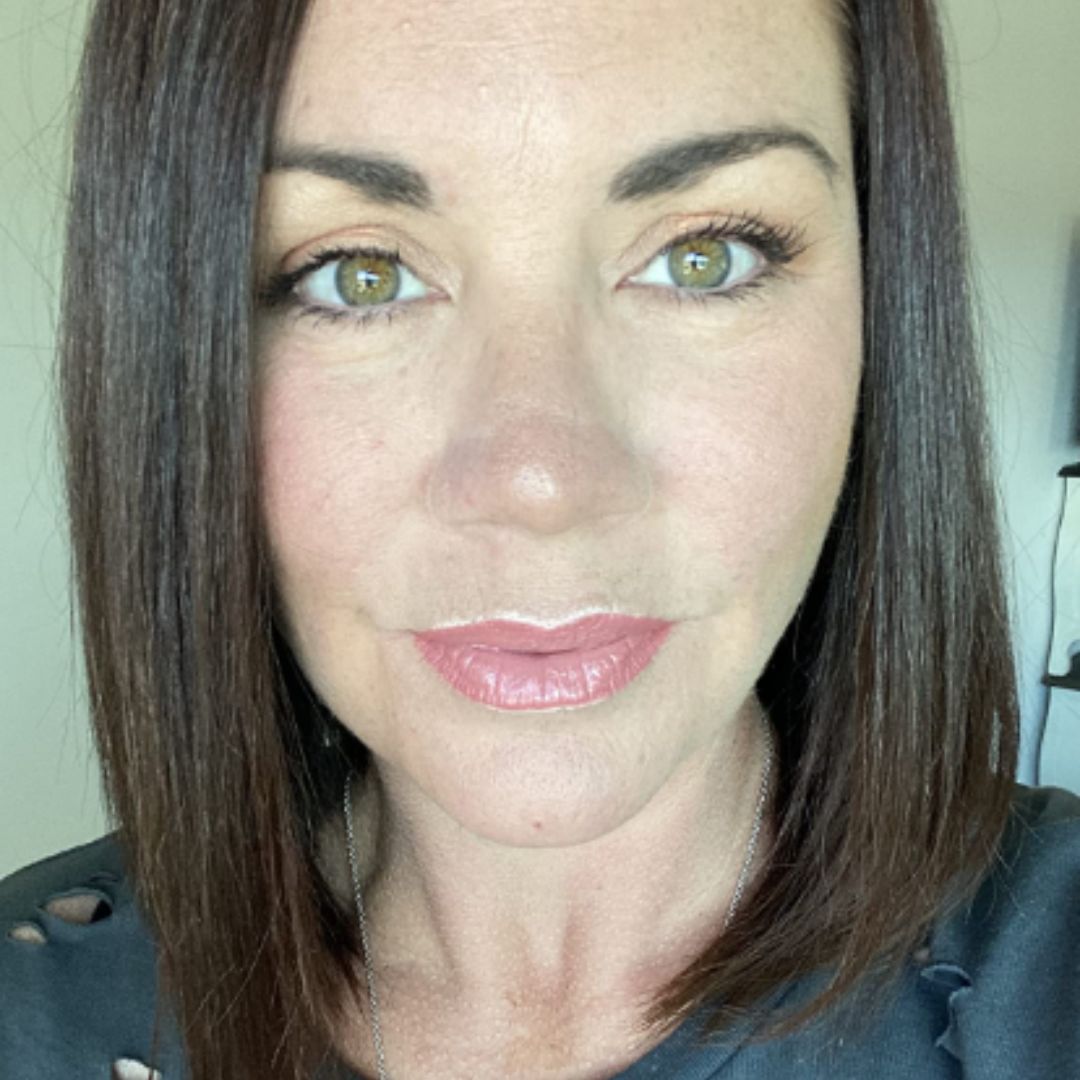 "They honestly picked the best name for this product because it does feel like a good old wake up call! Once it's on and drying, you feel more awake."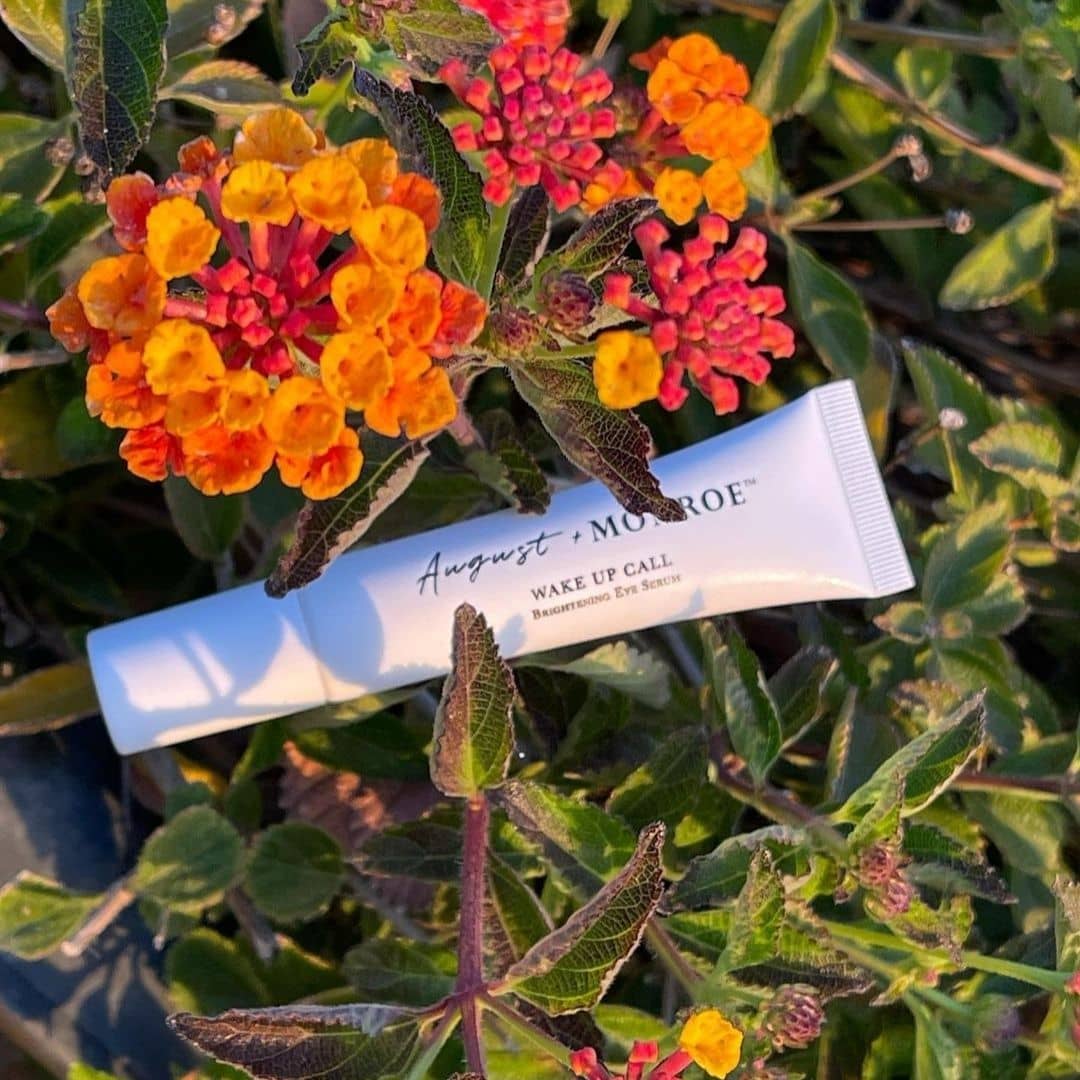 3
Natural ingredients for instant, and long-term results (No more harmful toxins)
Unlike other eye creams that contain:
Parabens, Phthalates, Mineral Oil, Hydroquinones, Fragrances, and other bad stuff that can lead to itchiness, redness, milia, etc.
Wake Up Call uses:
SAP – Lightweight version of Vitamin C that helps brighten.
Aloe – Hydrates & relieves puffiness & swelling
Coffee – Natural anti-inflammatory
Water – For non-greasy hydration
Kiki. Verified Customer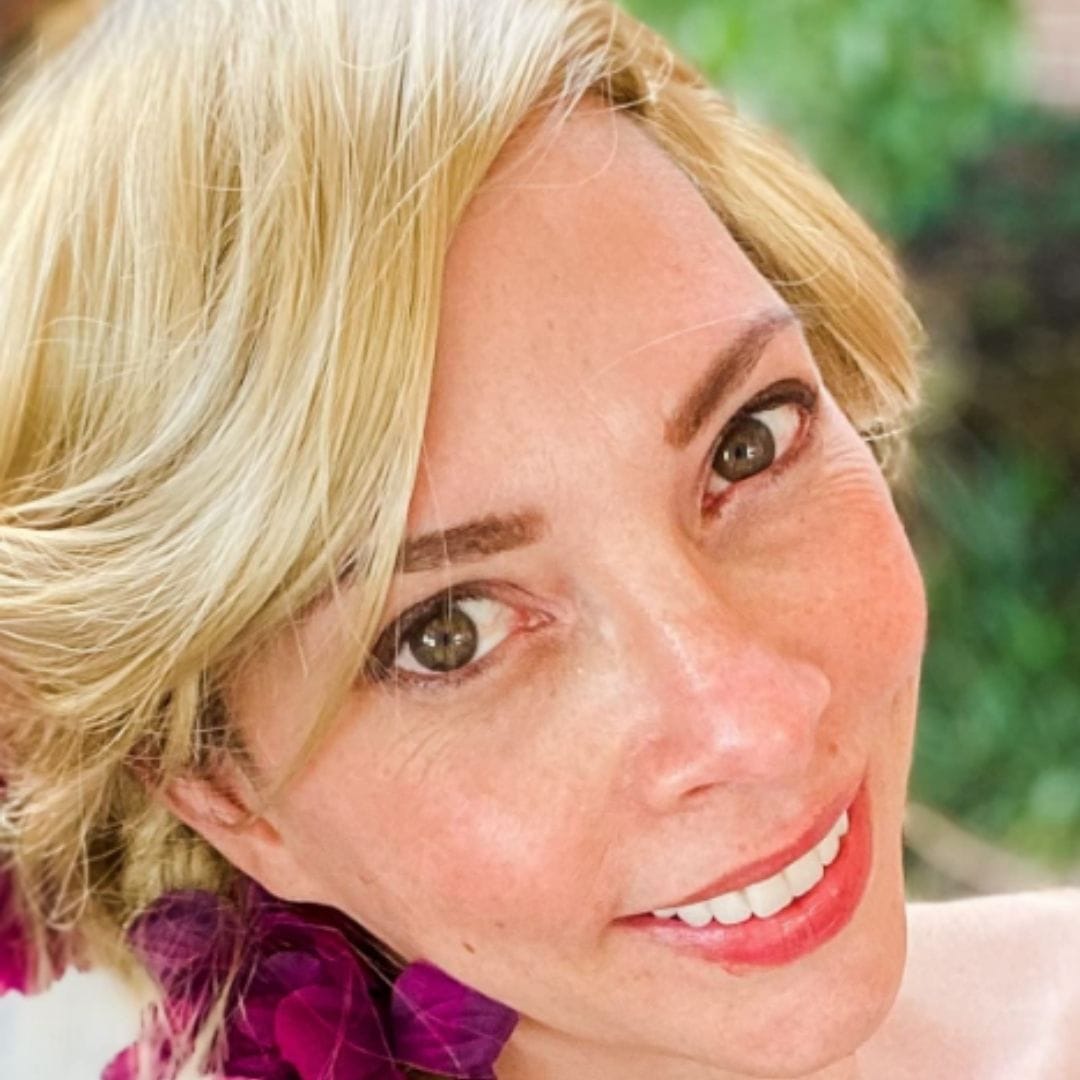 I use this under my concealer, and it does help hide my dark circles. I wear very little makeup so any product that can be added into my routine is very appreciated.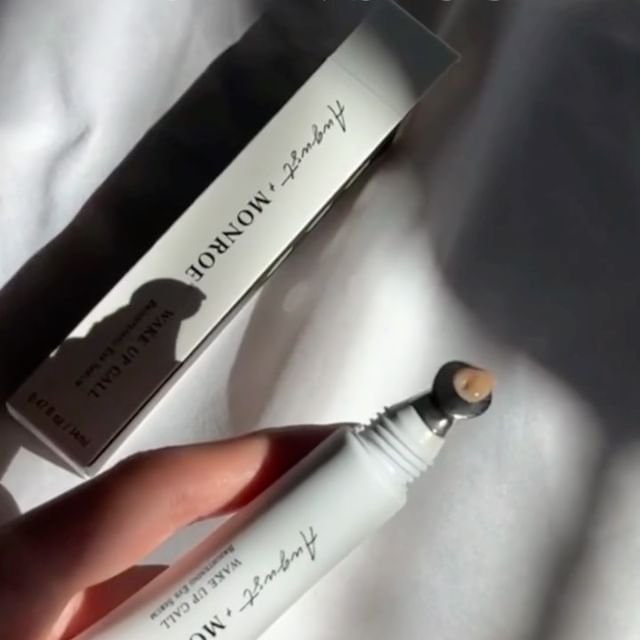 4
It has a fast absorbing light-weight peach gel (no greasy residue)
Most eye creams tend to leave a greasy residue that never dries out.
What you want is something that absorbs into the skin really well (especially if you have oily skin).
Wake Up Call has a lightweight feeling and absorbs into the skin, FAST! Leaving you hydrated.
This same gel serves as a color corrector to cancel blue tones underneath the eyes for an instant brightening effect.
M&M. Verified Customer
"It feels great on my under-eye skin, very cooling and hydrating. I was a little surprised that the cream has somewhat of a tint to it"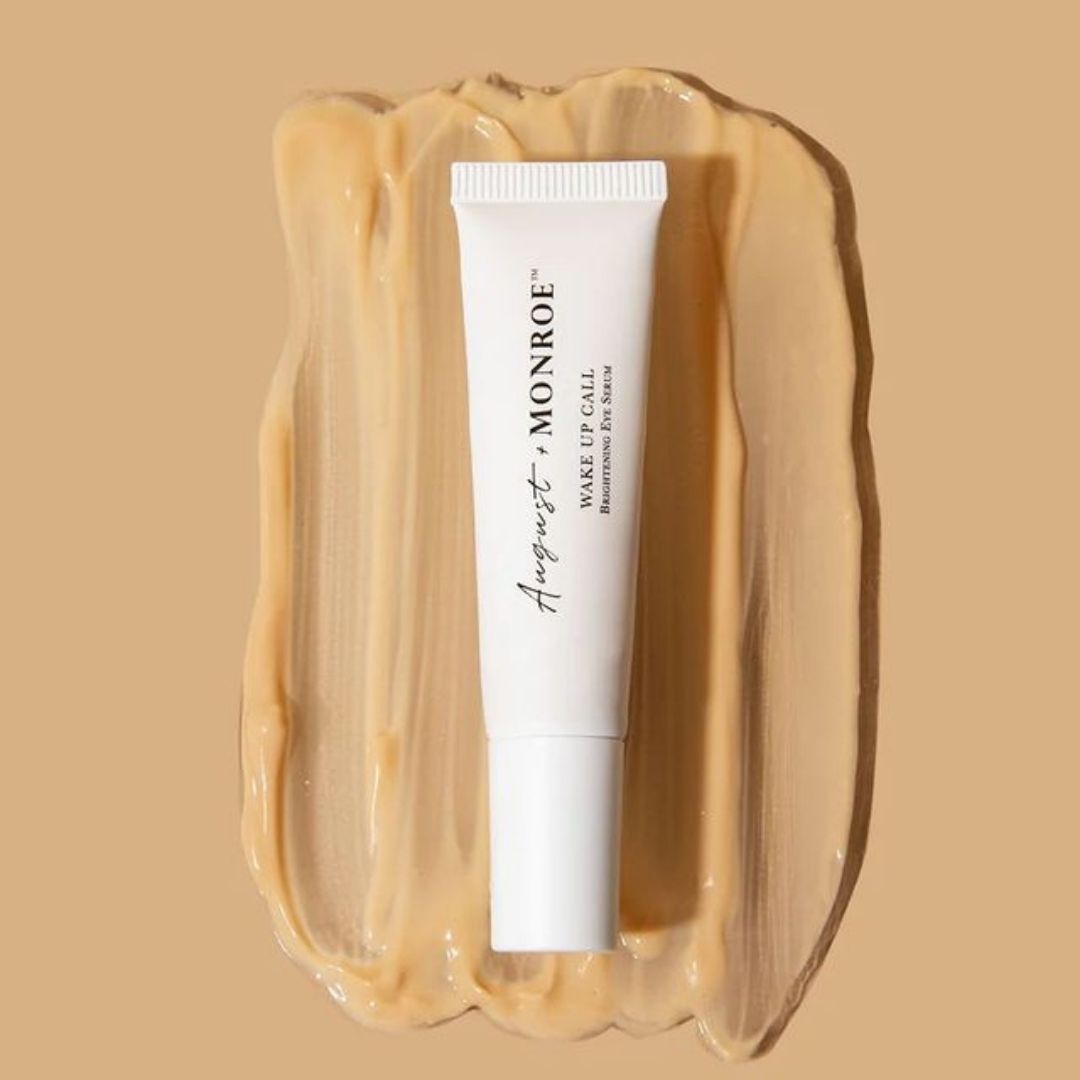 5
Ocular tested & dermatologist tested. Contact lens & sensitive skin safe...
Every natural ingredient was clinically tested and approved by some of the nation's leading experts. To ensure it's safe for all skin types, including sensitive skin and contact lens wearers.
Christina Ayala. Verified Customer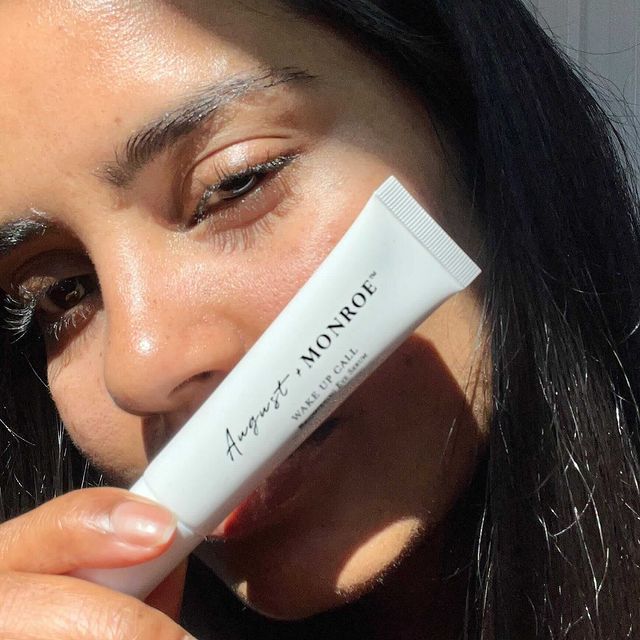 "No irritation, no stinging! Just a beautiful, silky, hydrating cream. Looks amazing on its own and works perfectly under concealer. "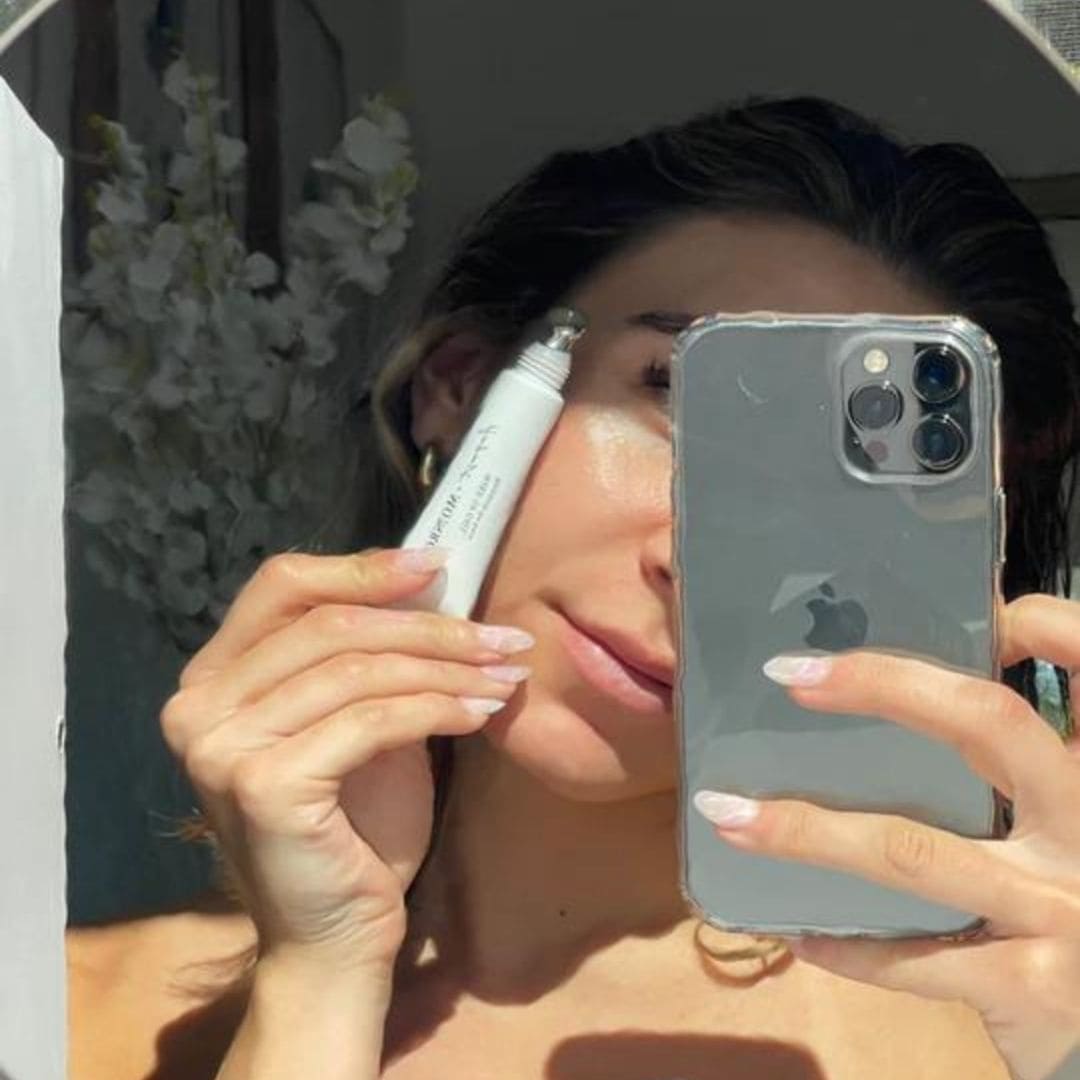 6
You Can Try It risk-free for 14 days. Love it or get Your money back
Unlike other products out there, this August + Monroe was designed to be effective and result-driven.
The A+M™️ customer service team will do everything in their power to ensure each & every customer has the best experience possible… including HASSLE FREE RETURNS (USA).
Brittany. Verified Customer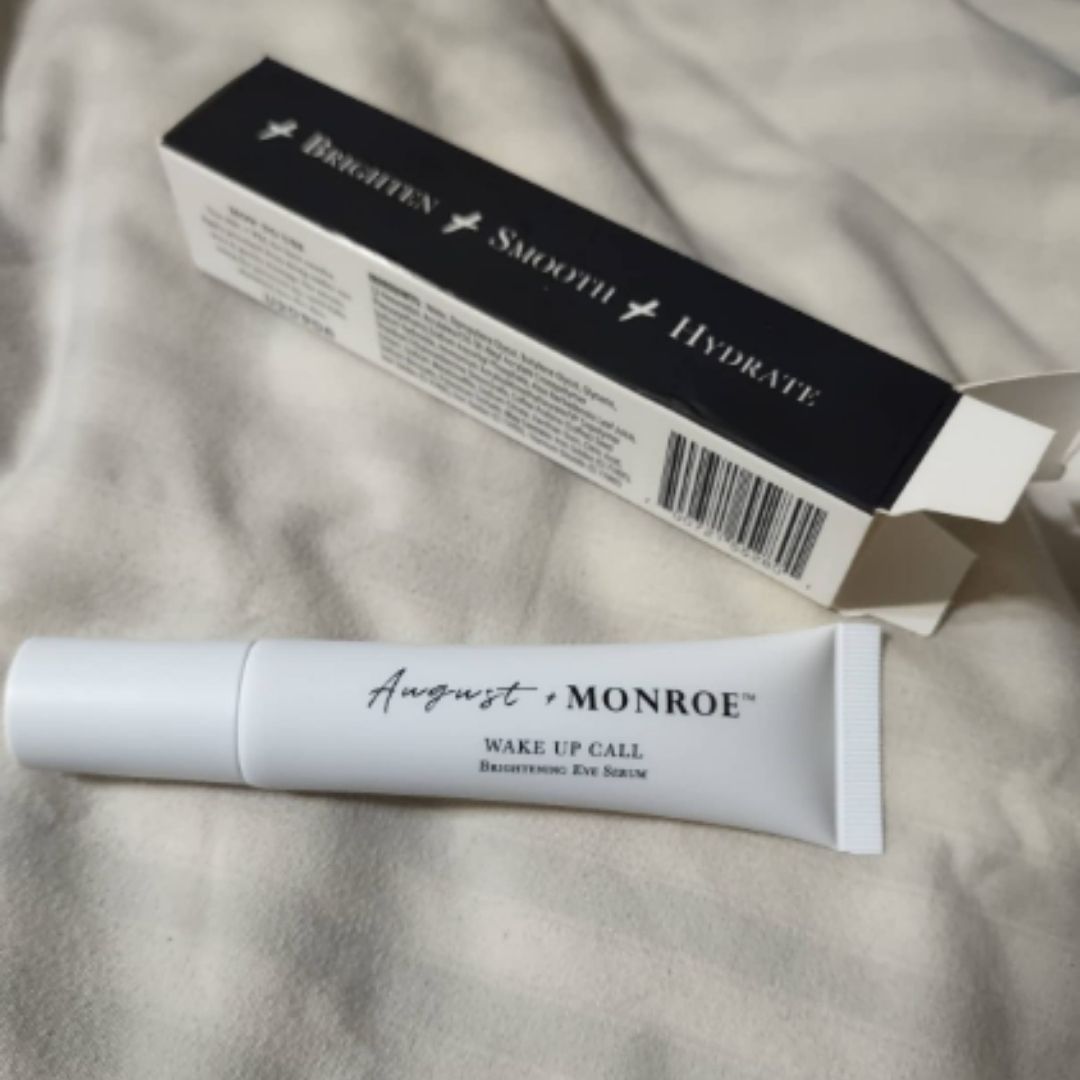 "It's helped so much with puffiness, brightening, and color correcting! If you haven't tried WUC you are missing out."

Bundle For Free Shipping

Vegan - Clean Beauty

For All skin Types

Dermatologist-Approved
Top Questions Most First-Time Customers Ask
My under-eye skin is sensitive, will this work for me?
Yes. This product was made with sensitive skin in mind.
How do I best apply this?
Apply 3 dots under the eyes, and massage with cooling time. Use AM+PM for best results.
Is it going to make my under-eye concealer cakey?
Not at all. This is a serum you can apply prior to using a concealer. It will even make your application a lot smoother!
Should I use this before my foundation or after?
Use prior to foundation. We always recommend applying prior to makeup to make sure you're giving your skin the treatment it needs.
How long should I wait for my dark circles to be brighter?
The true brightening effects are with continued use for at least 60 days ( using 2 x a day).
The peach color corrector will provide short-term results, but you will see your best results after the time specified.
Where are your products manufactured?
Our products are made in the USA.
When Will My Order Arrive?
We provide fast, efficient deliveries to all households in the US. We ship directly from our facility here in the US so your order will be with you in 4-7 days after processing.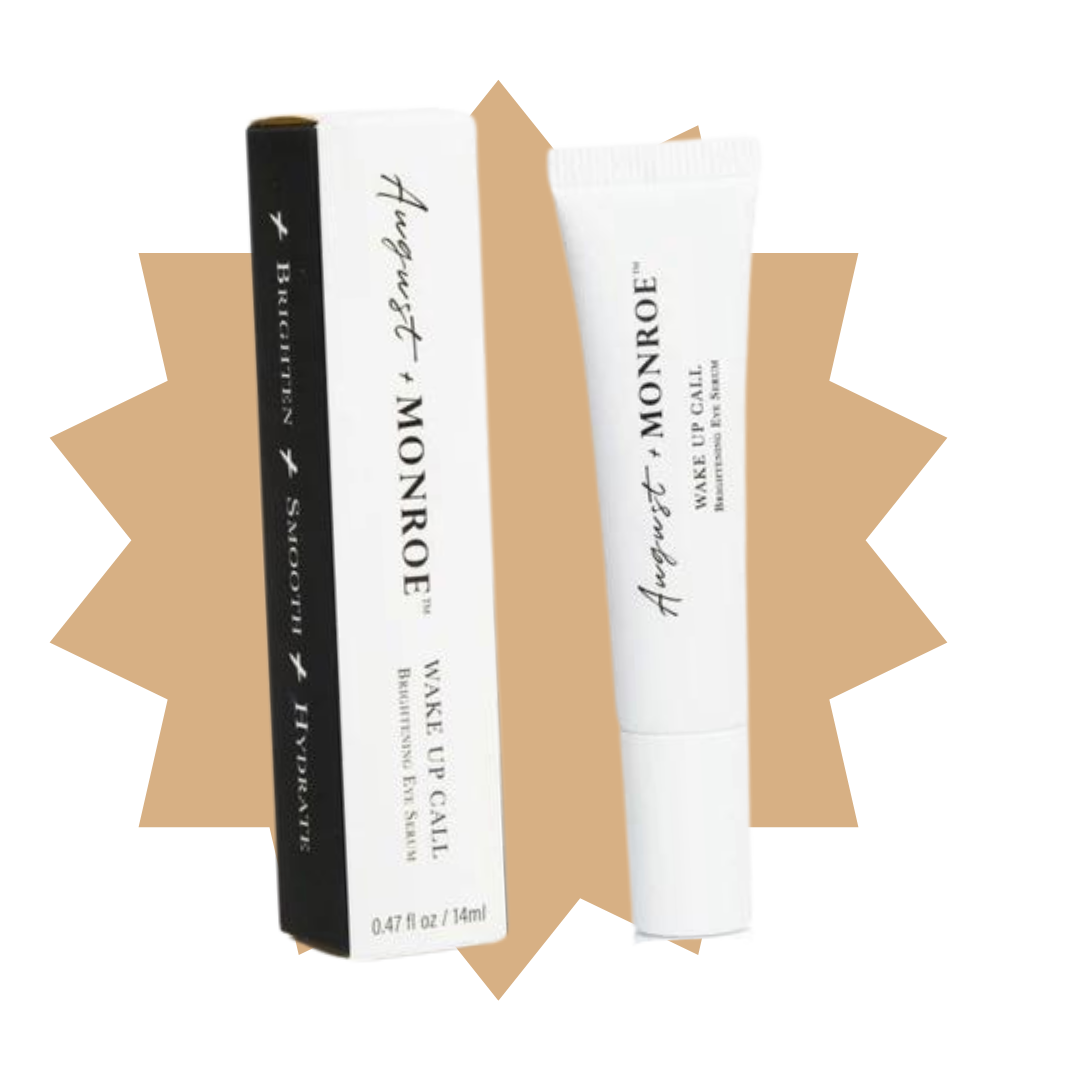 Try Wake Up Call & let the results speak for themselves
100 tubes in stock - they sell out fast
100% Money-Back Guarantee